In this edition:
ASUC ANNUAL GENERAL MEETING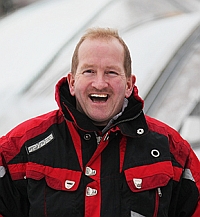 The glamorous surroundings of the world-famous entertainment venue, the Cafe de Paris, were the backdrop to this year's ASUC AGM, Lunch and Awards.
The ASUC Chairman, Simon Haslam, welcomed members to the meeting and thanked the sponsors: Knightbuild, Mixamate, MDIS, M J Rooney and Franki Foundations, for their generous support of the event.
He then highlighted some of the achievements of 2017, and future ambitions, beginning with the continued expansion in associate membership with the addition of Delta Membranes, Mixamate Concrete and Triton Systems this year.
For more details on the AGM read more here.
After a three-course lunch for the capacity audience of members and guests, the well-known British ski-jumper Eddie 'The Eagle' Edwards gave an entertaining insight into how a former plasterer found fame as an unlikely Olympian, before the presentation of the ASUC Awards 2017. Read more here
ASUC BEST PRACTICE AWARD WINNERS
Chief Executive, Rob Withers, presented this year's Awards with Eddie the Eagle. This is the third year of the ASUC Awards and both the event itself and the standard of the applications had grown year on year. The winners were:
Foundations Insurance Guarantee Awards sponsored by MDIS
– Winner: FRANKI FOUNDATIONS
Basement Guarantee Awards sponsored by MDIS
– Project up to £300k in Value – Winner: BASEMENT FORCE
– Project over £300k in Value – Winner: ABBEY PYNFORD GEOSTRUCTURES
Defects Insurance Guarantee Awards sponsored by MDIS
– SMALL TURNOVER – ANVIL FOUNDATIONS
– MEDIUM TURNOVER – Winner: UNDERPIN & MAKEGOOD (Highly Commended: Morcon Foundations)
– LARGE & EXTRA LARGE TURNOVER – Winner: FALCON STRUCTURAL REPAIRS (Highly Commended: Abbey Pynford Geostructure)
Training Awards sponsored by M J Rooney
– SMALL TO MEDIUM COMPANY – Winner: GEOSTRUCTURAL SOLUTIONS (Highly Commended: Morcon Foundations)
– LARGE COMPANY – Winner: ABBEY PYNFORD GEOSTRUCTURES (Highly Commended: W11 Construction)
– EXTRA LARGE COMPANY – Winner: KNIGHTBUILD (Highly Commended: Falcon Structural Repairs)
Project of the Year sponsored by ASUC
– Basement (value up to £2m) – GEOSTRUCTURAL SOLUTIONS for Wilton Crescent project
– Basement (over £2m up to £7.5m) – KNIGHTBUILD for Cadogan Gardens project
– Basement (over £7.5m) – W11 CONSTRUCTION for Sunshine project in Notting Hill
Best Achievement Award sponsored by Knightbuild
– Winner: DELTA MEMBRANES for innovation in providing flood proof housing stock and testing – technology which is now utilised in many ASUC basement projects
Photos of the award winners are available here.
MEMBERSHIP – NEW ASSOCIATE MEMBERS
In the second half of the year, two more companies have joined the growing ranks of ASUC Associate members:
Mixamate Concrete and Screed

Mixamate offers an alternative to the bulk delivery of ready mix concrete & ready mix screed that doesn't mean manual mixing. It is the only mix on site concrete and screed company in the UK that batch by weight at site.
This means batching plant quality concrete can be brought to basement and awkward access projects in London and the South East. With a fleet of vehicles fitted with pumping equipment the material can be pumped from a single vehicle.
This provides a super-convenient mix on site concrete delivery service that supplies concrete mixed on site & floor screed when you want, where you want, and in whatever quantities you need. So only the exact amount needed is delivered – no more, no less. Read more…
Anthony Way, Edmonton, London N18 3QT / www.mixamate.co.uk / 0208 8078071
Triton Systems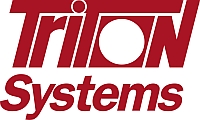 Triton Systems supplies waterproofing products to meet the requirements for Type A, B and C waterproofing systems as defined in BS 8102: 2009, the code of practice for the protection of below ground structures from water from the ground.
Any of these systems, or a combination of two or more, may be specified in a structural waterproofing project.
To make life easier for the specifier or contractor who ideally will be looking for a single point of supply and support, Triton supplies a comprehensive range of each type of system. All Triton's systems are backed up with expert technical support. Read more….
Units 3-5 Crayford Commercial Centre, Greyhound Way, Crayford, Kent DA1 4HF / www.tritonsystems.co.uk / 01322 318830
ASUC PUBLICATIONS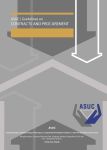 Launched at the AGM, the latest in its suite of documents is the ASUC Guidelines on Contracts and Procurement.
It offers a guide to the typical contractual processes and provisions that a contractor may encounter.  The intention is to help organisations and individuals involved in agreeing contracts, to achieve the avoidance of unnecessary disputes or hardship arising for anyone.
It has been compiled from selected case law, legal best practice and advice drawn from the substantial library of published material freely available to the public.The document is intended to raise awareness of contractual matters and is not to be taken or interpreted as contractual or commercial advice. If in doubt, legal advice must be sought to ensure that the business is not exposed to unnecessary risks.
To download a copy of the latest Guidelines visit the Document Download Area of the ASUC website.
ASUC EXECUTIVE FOR 2018
At the AGM this year, the following were confirmed as the officers for the coming year:
| | | | | |
| --- | --- | --- | --- | --- |
| Chairman | Simon Haslam | | Vice Chairman | Ross King |
| Technical Consultant | John Patch | | Underpinning & Subsidence Rep | Glen Purcell |
| Basement Rep | Dermot Rooney | | Engineered Foundations Rep | Phil Jones |
| Immediate Past Chairman | David Gakhar | | Executive Director | Rob Withers |
| NON EXECUTIVE ROLES: | | | Associate member Rep | Mark Scoble |
| Training | Jeff Haggerty | | Training Administrator | Lisa Hennessey |
| H&S representative | Tim Emery | | H&S Consultant | Wright Way Services |
| Financial Audits | Anthony D'Arcy | | Secretariat | Lauren Fairley AGM |
TRAINING NEWS
ASUC Online Survey
Progress has been made year on year in using the annual survey to capture information from members on turnover, guarantees issued, CITB Levy paid and claimed as well as a detailed overview of training and qualifications. ASUC has set targets for training, which are broadly being met, but we have identified areas where it is felt improvements are necessary to continue to provide a trained workforce for our sector. ASUC will work with members to identify courses and training opportunities as the challenges of 2018 present themselves – including anecdotal evidence of the labour market tightening because of Brexit .
Estimate your 2018 CITB Levy
To help you see what your future Levy may look like under the 2018 Levy Proposal, CITB has produced a simple calculator. This calculator will give you a guide of what Levy your organisation may pay from April 2018 under the proposed Levy rates of PAYE 0.35 % and Net CIS 1.25%.
To help you use this calculator use your latest Levy Return, likely to be the 2017 Levy Return, which has your calculations based on the 2016–17 tax year.
The actual amount your organisation will pay will be provided in the 2017 Levy Assessment that you will receive in the Spring of 2018.
The CITB levy is expected to be unchanged from: 0.35% on total PAYE and 1.25% net CIS
Visit estimate-2018-levy for more information
NVQ2 Qualifications
OSAT (On Site Training and Assessment is available in the following:
Level 2 diplomas available for: Structural Repairs Reinforcement / Structural Repairs Replacement / Structural Waterproofing / Excavated Underpinning and also Underpinning Mini-piling
The cost for the level 2 diploma is £756.80 per candidate and £885 for level 3 diploma. In scope companies (CITB levy payers) can claim back a grant of £400 per candidate plus a bonus of 22% (subject to conditions).
Please note there has been no increase in charges for OSAT in 2017. However, with falling numbers of registrations this is likely to be reviewed to ensure the fees reflect the costs of offering these services.
Jeff Haggerty, ASUC Assessor, is happy to discuss all your training and qualification needs and put together a programme that suits your working schedules. Contact him on 07885 659798.
Further Qualifications
Occupational Work Supervision (level 3 diploma)
Enhanced funding is available to CITB levy payers to help meet the £2,100 fee for this course, which  consists of eight classroom-based modules and takes between 6-12 month to complete.  The training programme is very flexible and can be tailored to meet the needs of each company as to the location, duration and timing.
Construction Contracting Operations (level 6 diploma)
This is a work-based qualification that requires a portfolio of evidence to be compiled in collaboration with an Assessor. It typically takes 6-9 months to complete, and usually requires 3-5 on-site visits. The cost is £2,400.
CITB's Agenda for Change
Following the result of the concensus vote the CITB ambition is to be more agile and focused on delivering outcomes for industry. The vote did show a desire for it to have a long term role and that a levy system is still a valid mechanism to raise funds for investment.
Under its 'Agenda for Change' the CITB will adapt its approach, focusing on three industry priorities:
Standards and Qualifications
Careers
Training and Development
You can read a short prospectus on this here and more information on two of the initiatives: a Construction Training Directory and Construction Training Register read below.
CITB LAUNCHES NEW TRAINING INITIATIVES
The Construction Industry Training Board (CITB) is increasing the standardisation and transferability of training in the construction industry and is launching a Construction Training Directory to support this.
The Construction Training Directory is a searchable online directory of construction-related training courses, tests and qualifications which are delivered by Approved Training Organisations (ATOs) to defined training standards.
To ensure the Training Directory is available by April 2018, CITB will be engaging with employers and ATOs to:
Define industry agreed Training Standards. CITB will work with specialist sectors and use pre-existing guidance to define the Training Standards. There will then be a period of consultation for employers and stakeholders to feedback their comments.
ATOs will be able to apply to have courses which they deliver mapped to the CITB Training Standard.
Where the employer also provides training, they will be able to register to become an ATO, in addition to using the Training Directory to identify suitable training.
Where relevant, these products will be supported by automated grant payments, which means that on successful completion of a course which qualifies for grant payment, the ATO will trigger an automatic payment, direct to the employer's bank account.
In April 2018, CITB will also launch the Construction Training Register an online register that holds individuals' transferable, construction-related training achievements and qualifications. Over time it will build a comprehensive picture of skills training across the UK.
On successful completion of the training course the ATO will input training information into the Construction Training Register. This will allow employers to view the transferable training achievements and qualifications of employees, enabling training needs to be identified and allowing for better planning of training and workforce development.
To view an overview of the Construction Training Directory, and for more information click here.
ASUC COMPANY NEWS
To see more Project Stories, Galleries and Press Releases from ASUC members visit this page.
---
NEWS FROM BUILD UK
Construction Industry Brexit Manifesto
Build UK is supporting the Construction Industry Brexit Manifesto, along with Association for Consultancy and Engineering (ACE), Construction Products Association (CPA), Civil Engineering Contractors Association (CECA), Federation of Master Builders (FMB), Home Builders Federation (HBF) and National Federation of Builders (NFB).
All of these major construction umbrella groups and federations agree that the construction industry should be viewed by the Government as a strategic industry, as without it Ministers will be unable to meet their ambitious plans for the delivery of new homes and infrastructure projects. Read more…
Tax Guidance for Build UK members
Members can access the Construction Industry Joint Taxation Committee's (JTC) monthly tax guidance newsletter as a key benefit of Build UK membership. The newsletter is publicised monthly on Newsline and includes guidance on challenging issues and direct responses to taxation queries. Read more
Build UK Newsline
For more news from Build UK visit builduk-newsline.org.uk
ASUC GUARANTEE LEAFLET AVAILABLE TO DOWNLOAD
Following the introduction of the FIG scheme (see item above) a new leaflet has been produced which covers all three of the ASUC guarantees – the DIG, BIG and new FIG.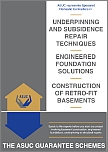 The leaflet provides brief details on all three schemes and their benefits as well as a checklist of ten good reasons for having an ASUC guarantee.
The brochure freely downloadable from the website and can be printed as required.
To see a copy click on this link
KENE PARTNERS – R&D TAX CONSULTANCY
Kene Partners is a specialist R&D Tax Consultancy that believes in superb client service delivered through a blend of talent and technology.
Not claiming R&D tax and wondering what all the fuss is about? 
You've probably had calls and emails about this but never given it much thought. With Kene Partners can you see if you stand to gain from the legislation. If you are employing technical people, either directly or through contractors, who are working to improve your products, processes or capabilities then its likely to be a worthwhile conversation.
Why Kene Partners? 
1. Well connected – it works closely with key industry Partners to ensure its knowledge of your industry is second to none
2. Talented consultants – our training school is tough, continuous and everyone has to complete it and maintain their score!
3. It uses the latest technology – to track your R&D activity to streamline future claims
Already claiming R&D tax?
Take advantage of Kene's free claim review service and book to have a visit from a consultants who will analyse the claim for errors, omissions and risk areas. If you decide to go ahead you will only be charged on the additional tax benefit you receive.
To find out more contact Kene Partners on 0207 11 888 33