In this edition:
TRENCHES – A THING OF THE PAST?
ASUC has recently committed to raising the threshold for excavations from 2.5m to 1.5m, below which foundations should be engineered.
In the last five years there have been 217 fatalities in the construction sector with a significant number attributed to excavations or activities associated with excavations. These statistics hide an underlying issue of the thousands of injuries and tens of thousands of near-misses from trench and excavation incidents.
The drainage industry has done significant work to reduce frictional resistance of pipes to facilitate lower pipe gradients resulting in shallower, therefore safer, excavations.   The foundations industry believes that a more pro-active approach should be taken with foundation excavation; indeed there are many organizations who believe that trenches deeper than 1.5m should, and could, be a thing of the past.
Guidance from the major warranty-providers (i.e. NHBC, Premier and LABC) still quote 2.5m as being the depth below which foundations should be "engineered".  Despite this being brought in decades ago.  Crucially, these guidelines consider it to be appropriate to apply "custom-and-practice" to excavation depths down to 2.5m. There are even depth-calculator apps which encourage anybody, qualified or not, to design an excavation depth up to 2.5m deep.
With safer methods of construction, competency assessments, increased responsibilities for designers, and all of the issues associated with sustainability we should not, and must not continue to dig deep trenches, where viable alternatives readily and cost-effectively exist.
ASUC is inviting those people and organizations in positions of power, authority and influence to help to spearhead this exciting transition from outdated methods of construction to modern, safer and environmentally friendlier methods of construction.
To read more click this link.
A FIG FIRST FOR FRANKI FOUNDATIONS
ASUC is proud to announce that member Franki Foundations has recently notified two projects to the new Foundation Insurance Guarantee scheme one in Havant for a single unit and another in Porchester for 23 units.  These two projects are the first to be announced for the FIG scheme. We anticipate an increased interest in this new warranty scheme and the Foundations membership category as well.
The FIG is a two-year policy intended to dovetail with NHBC / Premier / LABC and other similar new home warranties that commence after year two of the new build completion.  As with all the ASUC policies, this unique latent defects insurance policy is between the client and the insurance company, and therefore any claim is not dependent on the health of the contractor company.
The insurance is only available for ASUC members who are specialists in installing engineered foundation solutions, in the domestic and light industrial sector.  This includes foundation systems with ground beams and/or slabs.  ASUC define an Engineered Solution as any foundation with a depth in excess of 1.5m, all of which it believes should be engineered and not just trench fill.
To download the ASUC Guarantee Leaflet, including the new FIG – click here.
ASUC EVENTS
ASUC AGM & Awards Lunch – 24 November 2017
Last year's Awards event was a sell out and we are returning to London this year, this time to the famous Cafe de Paris on Friday 24 November.
The formal business of the AGM will be held in the morning, following which there will be a some short presentations on current topics of interest and, following a three course lunch, will be the eagerly-anticipated ASUC Awards – this year to be presented by Eddie the Eagle Edwards.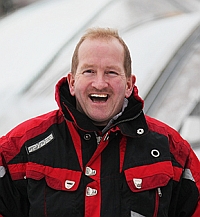 Despite little skill for his sport, Olympic skier Eddie 'the Eagle' Edwards, won the hearts and minds of the public with his heroic failures, and continues to delight audiences today. The story of how a former plasterer became an unlikely superstar by self-funding his Olympics dream was recently retold in a biographical film Eddie the Eagle. Eddie, now a trained lawyer, has since appeared in C4's The Jump and works as a sports agent.
The Awards Lunch is open to all members and their guests and is a popular pre-Christmas opportunity to enjoy a lunch in convivial surroundings.
Now is the time to start thinking about your entry for this year's Project Awards. Nomination forms are available now and the closing date for receipt is Monday 23 October 2017.
To find out about sponsorship of the event please contact Emma Rickwood at ASUC.
ASUC General Meeting – 1 June 2017
This year's Summer General Meeting, held at the Oxford Belfry, was very well attended by ASUC members.
Chairman, Simon Haslam gave an overview of some recent initiatives, which included setting objectives for the three types of membership category, Underpinning & Subsidence Repair, Engineered Foundation Solutions and Basements. The results of the on-line training survey were discussed. The survey demonstrates members on going commitment to maintain high standards of training with their workforces.
John Patch gave a presentation on AFCS (The ASUC Foundation Competency Scheme) and UKAS accreditation. The scheme will raise the quality, environmental and sustainability standards within the industry by introducing a rigorous training and operative certification process which will ensure contractors are qualified to deliver those standards. Building Control warmly welcomed the introduction of the scheme which would also benefit customers and warranty providers.
Once the UKAS accreditation process had been completed it will form part of the ASUC membership application process and the new Foundations Scheme would further complement this initiative.
TRAINING NEWS
Sector Specific Training Plans
ASUC members will again have the opportunity to enhance the standard date rate grant by 50% by joining the CITB's Sector Specific Training Plan 2017/18 during August.
The programme is run via on an on-line platform / portal which makes it simple to administer and claim grants for the training undertaken in each quarter.
The incentivised grant rate for the widened programme in 2017/2018 will be 1.5 x the standard day rate of £50 = £75 per day and the pilot was launched in August 2017 (the site is yet to go live and grants will be backdated) and run until the 31st March 2018. Please contact ASUC if you have not yet enrolled on this year's programme.
ASUC is reviewing the courses available with CITB. Once they have been agreed by the SSTP project team they can be taken by employers confirmed on the programme and backdated to the 1st August 2017.
PLEASE NOTE: For those companies on SSTP 2016-17- the closing date for claims is end of September. Please make sure you have claimed for all the courses for which you are entitled to do so. If you need any assistance with this please contact Lisa Hennessey at ASUC.
NVQ2 Qualifications
The newly reinstated Structural Waterproofing qualification has attracted a lot of interested with many being registered in the last few weeks. There have also been ten level 2 QUA 846 Excavated Underpinning candidates who have registered recently. Jeff Haggerty, ASUC Assessor, is happy to discuss all your training and qualification needs and put together a programme that suits your working schedules. Contact him on 07885 659798.
The cost for the level 2 diploma is £756.80 per candidate and £885 for level 3 diploma. In scope companies (CITB levy payers) can claim back a grant of £400 per candidate plus a bonus of 22% (subject to conditions).
Please note there has been no increase in charges for OSAT in 2017. However, with falling numbers of registrations this is likely to be reviewed to ensure the fees reflect the costs of offering these services.
OSAT (On Site Training and Assessment is available in the following:
Level 2 diplomas available for: Structural Repairs Reinforcement / Structural Repairs Replacement / Structural Waterproofing / Excavated Underpinning and also Underpinning Mini-piling
Further Qualifications
Occupational Work Supervision (level 3 diploma)
Enhanced funding is available to CITB levy payers to help meet the £2,100 fee for this course, which  consists of eight classroom-based modules and takes between 6-12 month to complete.  The training programme is very flexible and can be tailored to meet the needs of each company as to the location, duration and timing.
Construction Contracting Operations (level 6 diploma)
This is a work-based qualification that requires a portfolio of evidence to be compiled in collaboration with an Assessor. It typically takes 6-9 months to complete, and usually requires 3-5 on-site visits. The cost is £2,400.
Trailblazers Apprenticeship
ASUC is represented on the CITB Ground Workers Trailblazer Committee. It is hoped this will provide a means to obtaining a pathway within that apprenticeship which covers underpinning and minipiling operations.
CRO Cards Set To Expire End of September
The Construction Skills Certification Scheme (CSCS) is reminding the industry that time is almost up for 85,000 Construction Related Occupation (CRO) cards. CSCS withdrew the CRO card at the end of March this year and all CRO cards issued since October 2015* expire on 30th September 2017. Read more about the changes here.
The removal of the CRO card affects over 230,000 CRO card holders. In many cases CRO card holders will be required to register for existing or newly developed qualifications. In others, card holders will be asked to move to one of CSCS's Partner Card Schemes that are more appropriate for their occupation. For some, where their occupation is not construction related or no suitable qualifications exist, a CSCS card will no longer be issued.
CRO cardholders can find out what steps they need to take by inputting their occupation into card finder and following the steps on the screen. CSCS can also be contacted on 0344 994 4777.
*For the avoidance of doubt, CRO cards issued before October 2015 will remain valid until their expiry date. All related occupation cards issued by the following Partner Card Schemes, SKILLcard (Construction Related Occupation), ECS (Related Disciplines), JIB-UK PHMES  (Plumbing Related Occupation), will also remain valid until their expiry date. A full list of the Partner Card Schemes is available here.
CITB FURTHER DEFINES PRIORITIES
Further to the support received from Government in July, CITB has set out its priorities for the organisation until April 2018.
The presentation, Listen, Check, Act, Deliver sets out the response to concerns raised by Build UK members about reform in the following areas (click on the link above for more detail):
Money flow: CITB's expected income and how it proposes to spend the money on industry skills
Governance Structure: The current CITB governance structure: reporting mechanisms and the way industry can hold it to account
Listen, Check, Act, Deliver: The method CITB uses to decide the best type of intervention for the industry-agreed skills problems presented to it
What CITB will deliver and when: A detailed timeline which outline the projects CITB will deliver in 2018.
Enabling Functions
How the day-to-day function of CITB support the three strategic aims: Careers, Standards and Qualifications, Training and Development.
As an Industry Training Board, CITB is asked by the Secretary of State to show that it has continued support from the construction industry every three years. The Government can then authorise CITB to collect a construction levy from employers and invest it in the training that the industry needs. The consultation and vote will take place this year.
CITB currently seeks the views of 13 Federations as part of the Consensus process and Build UK, of which ASUC is a member.
This item will be discussed at the ASUC Summer meeting in June which will include a members' forum to obtain members views on the vote and also what are the options should CITB not continue.
In the meantime, CITB is consulting extensively with the industry before we go to consensus in Summer 2017. You can make your voice heard now by telling CITB what you think of the current levy options, or by joining the Levy Working Party Reference Group.
ASUC COMPANY NEWS
To see more Project Stories, Galleries and Press Releases from ASUC members visit this page.
---
SUBSIDENCE FORUM TRAINING DAY 2017
This year's Subsidence Forum training day will be held at the BRE, Watford on 19 October.
Presentations will include: Satellite Monitoring, Catastrophe Planning, Fracking, Legal Update, H&S/Risk and Repair Methods.
To view the full programme and a list of speakers, as well as download the booking form please click here.
NEWS FROM BUILD UK
Build UK launches incident alerts system
Build UK is delighted to launch its Incident Alerts System, which allows its members to share information regarding accidents or incidents across the industry. Read more…
NASC makes H&S Guidance free to download
Build UK member, National Access and Scaffolding Confederation (NASC) has made their Health & Safety and Technical guidance titles available to download for free from their website. Read more…
Build UK Newsline
For more news from Build UK visit builduk-newsline.org.uk
ASUC GUARANTEE LEAFLET AVAILABLE TO DOWNLOAD
Following the introduction of the FIG scheme (see item above) a new leaflet has been produced which covers all three of the ASUC guarantees – the DIG, BIG and new FIG.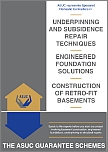 The leaflet provides brief details on all three schemes and their benefits as well as a checklist of ten good reasons for having an ASUC guarantee.
The brochure freely downloadable from the website and can be printed as required.
To see a copy click on this link