At its recent AGM, Ross King, Managing Director of Falcon Structural Repairs Ltd, was elected Chairman of ASUC and will serve for the next two years.
Ross King is a Building Surveyor by profession, and worked in the Subsidence, Underpinning and Specialist Repair Industry for well over 20 years. Having worked for Falcon Structural Repairs Limited for much of that time, in 2016 (its 30th anniversary year) he led a successful management buyout of the company.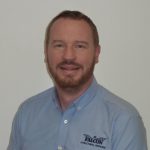 Recently he has been involved in redeveloping the company's Health and Safety Management systems as well as updating the web-site, establishing new marketing strategies and attracting new clients.   Since 2016 he has sat on the executive board of Construction Training Beds and Herts Ltd and actively involved in promoting training within the Construction Industry and his own organisation.
It is this focus that Ross wishes to bring to his Chairmanship of ASUC, whereby members continue to lead the way and offer excellence above other contractors working in the sector.  The recent annual audit of all members highlights how training and H&S work together to maintain standards of workmanship and operation.
That commitment to standards will be demonstrated by UKAS accreditation, when completed, and coupled with the ASUC guarantees scheme will separate members as being the preferred specialist contractors to use.
The recent dry and warm summer is predicted to result in a surge of subsidence and underpinning claims and ASUC members will be ready for this and able to offer the peace of mind that comes with the DIG guarantee.
As the housing market looks for 300,000+ new builds per annum, the engineered foundation market is an exciting prospect for those involved and once again we believe the FIG warranty is crucial to development of this area.
Similarly, the basement market remains strong and demand for the BIG warranty continues to grow.
Speaking at the AGM, Ross said of his election, "It is a great honour to be Chairman of ASUC and what it stands for in our Industry, I am looking forward to representing the association and furthering its development over the next two years".  He also expressed his thanks to the outgoing Chairman, Simon Haslam, and his contribution to raising the profile of the association.