This year the ASUC Awards Lunch was held at Painters' Hall. One of the great 12 Livery trade associations in the City of London. Established in the 12th century by groups of tradesmen, this was the perfect venue to host this year's awards which combined unique art dating back to the 16th Century and valued heritage within the ideal location.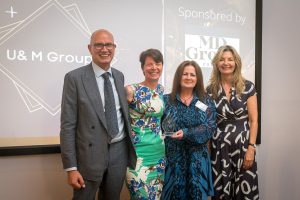 Following lunch, guests were entertained by Comedian Jo Caulfield who had clearly done her research on the industry and the sponsors and companies who attended. She shared her hilarious one-liners on underpinning and reflected on her journey through visiting company websites describing one as it resembled something from 'a murder seen'. It was safe to say the room took the roasting well and thoroughly enjoyed her wit and wildly accurate observations.
We were lucky enough to have Jo present the awards this year. The ASUC awards recognise the work of members in promoting best practice, ensuring high standards of workmanship and the continuing development of its workforce through training.
ASUC Awards 2022 Winners:
Defects Insurance Guarantee (Small) Winner – Anvil Foundations
Defects Insurance Guarantee (Medium) Highly Commended – Purkelly Brothers Ltd
Defects Insurance Guarantee (Medium) Winner – U&M Group
Defects Insurance Guarantee (Large) Winner – Falcon Structural Repairs Ltd
Basement Insurance Guarantee (Up to £300k) Winner – Basement Force
Basement Insurance Guarantee (Over £300k) Winner – Noble Structures
Project of the year (Less than 100K) Winner – Franki Foundations
Project of the year (£100k – £1M) Winner – MJ Rooney
Project of the year (In excess of £1M) Winner – Knowles Construction
Contractor Assessment Scheme Award – Highly Commended – KnightBuild
Contractor Assessment Scheme Award – Highly Commended – Toureen Group
Contractor Assessment Scheme Award – Winner – Abbey Pynford
Special Achievement Award – Abbey Pynford
A huge congratulations to all the award winners and thank you to all those who submitted nominations this year. A massive thank you to all of our Sponsors, we hope you thoroughly enjoyed 2022's ASUC General Meeting and Awards Lunch. We look forward to the next one!
Speaking to the capacity audience, ASUC Executive Director Rob Withers, thanked sponsors through very challenging times and look forward to more successful face to face events in 2023.
"After a 3-year break because of Covid it was fantastic to see members and guests face to face and to once again reward members efforts with the Awards. We cannot provide the awards lunch and ceremony without our sponsors so a huge thanks to those who helped us out in what we know are very challenging times. We look forward to welcoming members and guests to a similar event in 2023, watch this space for a save the date in due course " – Rob Withers
ASUC Chair Dominick Gallagher was pleased with the success of the event and thrilled by the turnout, thanking members for attending and guest speaker Jo Caulfield for her hilarious performance.
"After a long absence, it was brilliant to have the ASUC Awards back, and what a truly fantastic venue and event it was, with many members and guests present. We look forward to having this back as an annual date in our calendars" – Dominick Gallagher
A variety of awards were presented to a wide array of our members to celebrate their success throughout the year. A special thanks to Jo Caulfield our guest speaker for presenting the awards and providing a free critique of our websites! "