On the 26th November, ASUC held it's annual general meeting and lunch at Jury's Inn Watford.
The event was the first face to face event that ASUC has held since the COVID-19 pandemic and it was great to see such a positive turn out of attendees from ASUC members.
The day started with Coffee and networking before the meeting started at 11:00am.
Ross King welcomed the meeting and amused attendees with his meeting companion, Peppa Pig, who was a stand in for his previous guest, Pudsey Bear.
Ross gave a look back at his time as Chair and noted it was great to see such a positive uptake of the day's face to face event.
He spoke on areas that the association was working on including training and the Contractor Assessment Scheme, both of which have been a really positive force within ASUC. Ross gave thanks to John Patch and Russell Mott for their continued efforts driving the UKAS accreditation forward, despite the difficulties this had presented. He spoke about how his own company, Falcon Structural, had taken up 2 apprentices this year under the CITB apprenticeship scheme, and how this scheme was really crucial for the industry to bring young people in.
With this, Ross handed over to Dominick Gallagher, the incoming chair.
Dominick thanked Ross for the introduction and for his 2 year term as Chair, noting that it had been a successful term with many positive initiatives and outcomes. Dominick then presented Ross with an engraved Montblanc pen as a thank you for his term on behalf of ASUC. Dominick alluded to his own goals for his time as Chair, firstly recognising that he was the first Health & Safety professional to fill the role and that this would be a standout theme for his term, through positive promotion of health and safety. As well as this, he confirmed he would continue to push training standards forward, following the strong foundation set by Ross. A primary ambition for Dominick is the Contractor Assessment Scheme. It is his ambition that all members take on board the constructive criticism from the audits so that eventually, all members can achieve low risk status.
Dominick then handed over to Rob to carry out the official business of the meeting.
As well as welcoming a new Chair to the board, the meeting also welcomed 2 newly elected members of the board.
Simon Haslam (Basement Force) was appointed as Vice Chair.
Simon has run Basement Force since 2008 during which time the company has built over 200 basements in London and the surrounding area. He was the co-lead author on the 2013 ASUC publication, Guidelines on Safe and Efficient Basement Construction directly below of near to Existing Structures (available from all good bookshops and a great children's Christmas stocking filler) which was key in the Grosvenor Estate re instigating their ASUC members only requirement for basement construction. He was also involved for several years in consultation leading up to the 2015 RBKC basements planning policy. Notably his actions prevented several clauses which would have had a debilitating negative impact on basement. Simon was the ASUC Chairman from 2016 to 2018. He feels that the experience gained during his two years as Chairman, and the time to reflect on what did and did not work, would enable him to be much more effective Association Chairman second time around.
Mark Richardson (MPW Brokers) was also elected as the Associate's representative for the board.
A member of the Chartered Insurance Institute, Mark is a Director of CLEARmpw Insurance Brokers
with over 40 years' experience in many areas of the broking sector. Mark began his career with AON in London before moving to the specialist independent broker Alfred Blackmore in the City for 6 years. When the opportunity arose to be part of the MBO team at
Shephard's in Bromley, Mark left the City behind in 1998 to participate in the purchase and subsequent management of Shephard's until it's sale to the consolidator Giles, in 2008. Not content to remain within the larger consolidating broker, Mark and his team left the Giles organisation to join the construction broker MPW in December 2009 and grew the firm to it's present size when it was acquired by the CLEAR team in 2017. Mark is Broking Director on a number of major accounts and Trade Associations with an enthusiastic approach to the development of new clients and business opportunities. In his own time Mark is a keen sportsman and gardener and still manages to kick the occasional football, when he is not on the golf course!
The new executive board is as follows: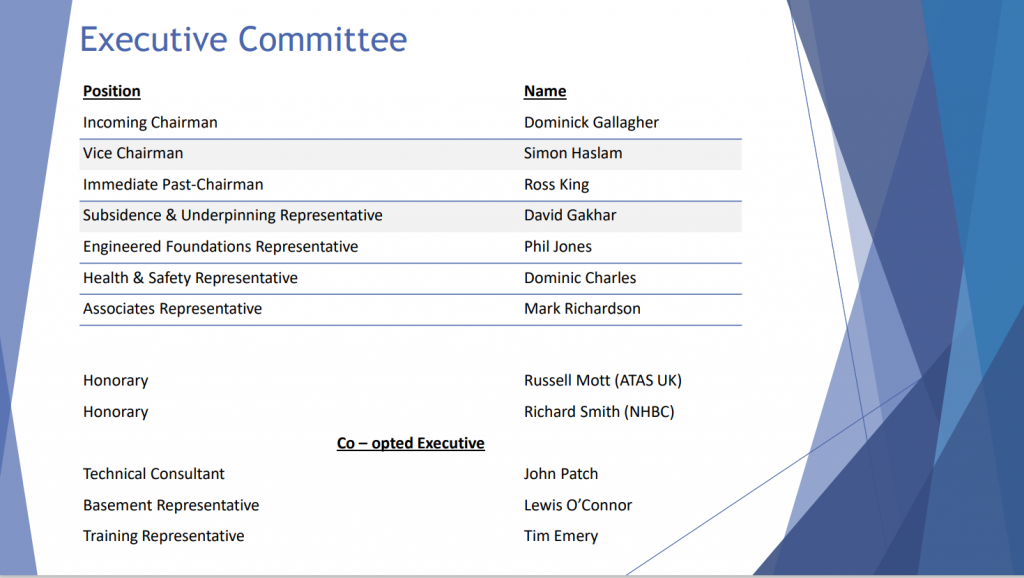 Following the meeting, the attendees enjoyed a drinks reception in the downstairs bar area of the hotel, which allowed guests to network with colleagues and friends.
Guests were then welcomed to the restaurant area of the hotel, where they were seated for a private three-course lunch.
It was a really positive day and ASUC were thrilled to finally be able to hold a face to face event and welcome members following a difficult period due to the pandemic.
We certainly hope that this can continue and ASUC will look to hold an awards dinner next year to properly celebrate the work and achievements of its members.