Rascor and Wykamol combine to waterproof the old Odeon cinema site in Kensington with 7000m2 of type c membranes.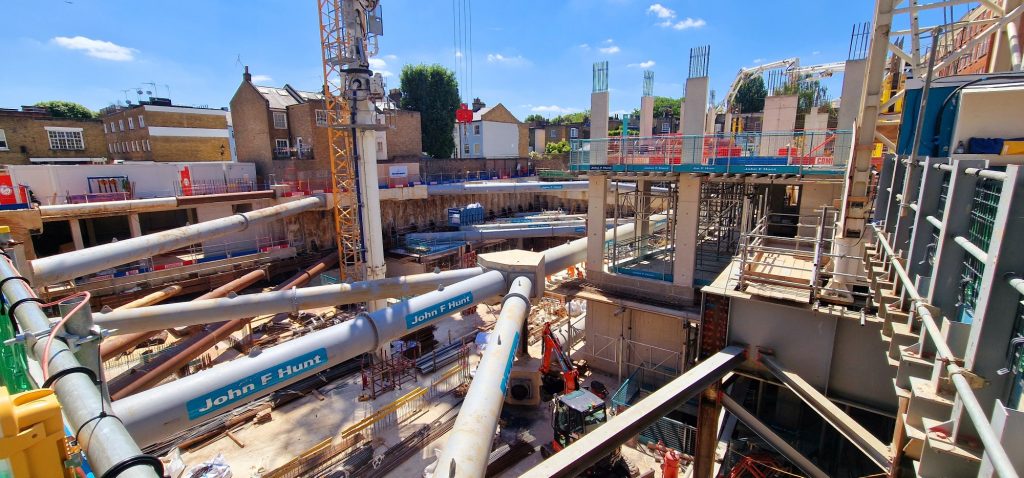 This mammoth three-story basement has been created from the old Odeon cinema on Kensington high street.
The New Building will feature
– New 887-seat cinema (including 12 wheelchair-accessible seats) with six screens accessed from Kensington High Street; The lobby will include a café, snack counter and bar with lifts and stairs taking customers down to the auditorium at basement level;
– Restored historic façade;
– 106 residential units, including 35 on-site affordable units for elderly people;
– Modern offices and retail space.
This 3-story deep structure was a complicated design linking waterproofing from each floor to a lower floor and then pumped to drainage at a higher level
Wykamol have been attending site every 2 weeks to sign areas of waterproofing of to allow concrete walls to be built in front of the membrane system
Jetting eyes flushing systems have been used every ten metres to allow the membrane and perimeter channels to be cleaned regularly on maintenance schemes
Collaborating with the team at Rascor has made this project run like clockwork with regular photos sharing to a what's app site project folder for the main contractor and with the visits a fully insured scheme can be handed over to the owners later
With the scheme having waterproof concrete throughout the complete site the membranes have given this project a dual waterproofing scheme to Bs8102,
With our British manufactured membranes and the use off solar energy to help manufacture these membranes we have been able to help with reducing co2 emissions over imported products on site also
Overall, a fantastic project for the team at Wykamol to work on and a huge thank you to Rascor for collaborating with us on such a prestigious project.