ASUC is excited to announce that bookings for this year's AGM and Awards Lunch are now open.
Following the great success of the 2018 event, the event will once again be held at One Moregate Place, London on 15 November 2019.
The day will commence with a members-only AGM followed by a drinks reception and three-course lunch for all guests. Following the lunch, the awards ceremony will commence to acknowledge the successes of ASUC members throughout the year.
Guests attending the AGM are  to arrive at 11:00 for an 11:30 start. The meeting will conclude at 13:00, as guests who are only attending the Awards lunch are arriving. We will welcome all guests to a drinks reception, before sitting down to hear the opening address and lunch at 13:50. The Awards themselves will begin at 15:50.
In addition to celebrating ASUC members' successes and bringing together the underpinning sector, this event offers a platform to network, catch up with friends, reward your staff and even entertain clients.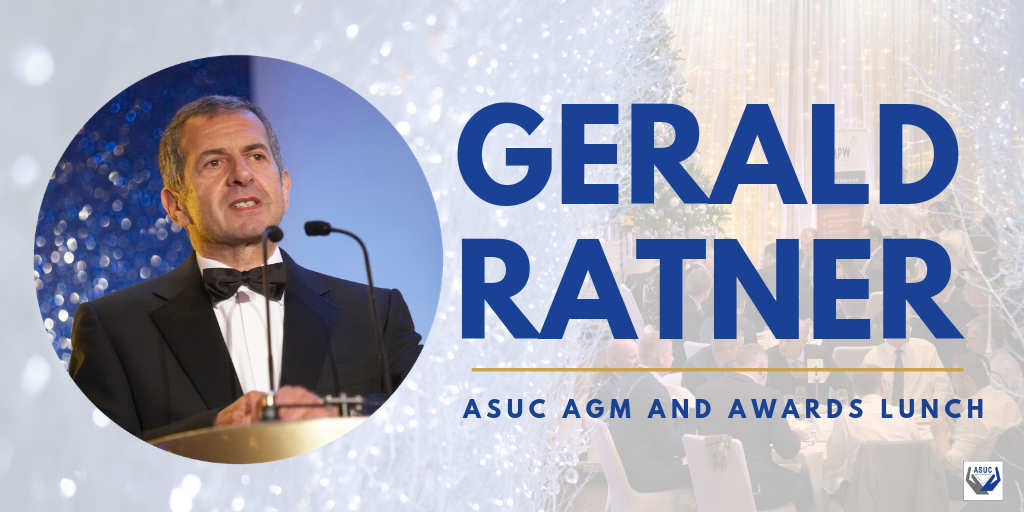 A dazzling speaker
This year, the speaker will be Gerald Ratner. who took over the family jewellery chain in the mid 80s, becoming one of Britain's best known businessmen. He transformed it from 130 stores with sales of £13m to a public company with 2,500 stores and sales of over £1.2bn. By 1990, Ratner's was the world's largest jewellery retailer with profits in excess of £120m.
Following a widely reported gaffe in which he compared his products to M&S prawn sandwiches, Gerald was forced to sell the business. Reduced to virtually nothing and shunned by banks and prospective employers, he eventually picked himself up and clawed his way back – first with a health club then with geraldonline. The internet jewellery business is now the largest in the sector,
perhaps presaging a return to the high street.
After turning around his fortunes, Gerald talks with typical candour and a great deal of humour about the rollercoaster journey. He even raises a smile when he produces The Sun's list of the '50 biggest mistakes of all time' – in which his is ranked top!
Awards categories
The categories for this year's Awards ceremony are:
DEFECTS INSURANCE GUARANTEE AWARD

FOUNDATIONS INSURANCE GUARANTEE AWARD

BASEMENT INSURANCE GUARANTEE AWARD

TRAINING AWARD

PROJECT OF THE YEAR AWARD

SPECIAL ACHIEVEMENT AWARD
For more information about the event, please email us here.