Last week, ASUC member company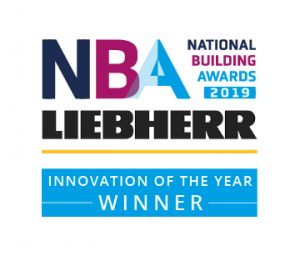 Newton Waterproofing Systems took home the prestigious Innovation of the Year accolade from the National Building Awards. The team at Newton is very honoured and proud to have won such a fantastic award and is thrilled to be adding it to their trophy cabinet. Newtonites James and Richard went to Wembley Stadium for the evening and collected the award, which was in recognition of the Newton Membrane Recycling Service.
The Newton Membrane Recycling Service 
Newton's award-winning recycling service has been in action now for over 2 years and is still the first and only such scheme in the UK waterproofing industry, made possible with the help of their Specialist Basement Contractors (NSBCs).
Newton's dedicated drivers pick up waste HDPE membrane from NSBC sites and offices when delivering new product, preventing further carbon emissions. Once collected, the membrane is turned into pellets at their head office in Tonbridge, Kent, before being collected by a third-party recycling organisation and manufactured into new construction products. This achieves an entirely closed-loop recycling process.
Newton is very proud of its recycling service as it directly tackles an inherent problem in the waterproofing industry that no other supplier has yet managed. High Density Polyethylene (HDPE) is used to manufacture one of the primary forms of below-ground structural waterproofing – cavity drainage membranes. However, every year thousands of tonnes of membrane off-cuts end up in landfill as they are too small for reuse in waterproofing. As the membrane is made from virgin HDPE, it is perfect for recycling.
2019 So Far
Last year, the Membrane Recycling Service recycled 5.275 tonnes of waste HDPE membrane. Now in 2019, Newton has succeeded in recycling 2,148 tonnes so far! With 7 more months of the year to go, the Newton team is confident that they will be able to prevent well over 5 tonnes of HDPE from going to landfill. To translate this into more quantifiable numbers, that's 9,646.85 kWH of energy saved so far in 2019, which is enough energy to make 342,999 mugs of tea!
Everyone at Newton is excited to see the continued progress of the Recycling Service, especially as they continue to search for new ways to lower our carbon footprint and decrease their impact on the environment.